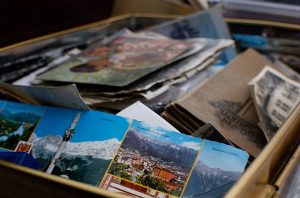 Life is hard to plan for. Seasons change, things happen, and time wears on. But when a major life event occurs, you need to make sure you're able to see the big picture.
This is why we're creating a series of posts on the tips and tricks to help manage major life events. These events range from something as simple as spring cleaning (and how it can affect your entire life) to as complicated as divorce or separation. And, of course, we'll help you determine what to do with those old print photos at every step of the way.
Part 1: Spring Cleaning Tips and Tricks
Part 2: Moving and Packing Tips and Tricks
If you're lucky, you'll only need to move a few times throughout your life. We say lucky because packing up all your stuff and precious possessions, and shipping them off to the next destination can be a total pain. During the moving process, items are at risk of getting lost, damaged, or even stolen, so you'll want to go into any move with a solid plan.
To help, we pulled together a list of moving and packing tips and tricks that will make your next living transition as smooth as possible.
Kiss clutter goodbye
One of the best ways to make moving easier is to minimize the possessions you're hauling from one location to the next. That means cleaning out the backs of closets, dusting off boxes in the attic, and tossing or donating anything that's expendable.
If you're having trouble deciding what to keep or what to toss, be realistic about what will happen to that specific item in the next location. Will it continue collecting dust for another five years? In that case, kiss it goodbye!
Take inventory
As you're going through all of your clutter and deciding what to keep or toss, make a list of everything you decide to keep. Once the purge is over, then go through everything in your space and start to take inventory of what you have. You can then organize the list by grouping like with like, and come up with a packing strategy for each group. For example, you'll want to ship your vases and breakable curios with the kitchen plates, cups, and glasses. Not only will this help with the actual move itself, but it will make the unpacking process much easier.
Create a checklist
After taking inventory and grouping like items together, draft up a checklist of your next steps. Your checklist will probably look something like this:
De-clutter closets
Buy boxes and packing tape
Collect old newspaper for packing fragile items
Contact moving company about renting a truck
Get keys to new place
Etc.
A checklist like this will keep you on-task and prevent you from running around without a clear plan.
Take special care of special items
Not all items in your household are equal in value. We're not necessarily talking about jewelry or the flat screen TV (although those things are important to keep safe during the move!)—we're talking about items with strong sentimental values. These items could range from a precious heirloom lamp, pressed flowers from your baby's first day at the park, or the boxes of old photos stored in your attic. You'll want to make sure these items get extra special treatment during a big move. Consider buying insurance for high priced items and take extra measures to correctly pack and ship anything delicate. In terms of old print photos, you'll want to create digital back-ups of the originals. You can do this by sending them to us to scan.
So, whether you're moving away to college, buying a new home, or downsizing for a new space, the most important moving and packing tip is to have a plan. It will help you prepare for the work that needs to be done and ensure all your stuff arrives at the next destination safe and sound.
---
Happy #WorldBackupDay—Let's Pledge to Keep Our Files Safe
Is Snap (Snapchat) Poised to Disappear?
4 Free Online Photography Classes from Prestigious Universities
Astrophotography 101: How to Take Pictures of Stars
Facebook AI Can Now Search Photos Using Any Keyword
DIY Photo Scanning Apps vs Professional Picture Digitization
How to Transform Digitized Pictures into Unique Photo Gifts
Digital Files After Death, What Happens to Your Digital Legacy?
Demystifying The World of Photo Scanning
Water Damaged Photos? Don't Panic!