May is Older Americans Month, what is it and why you should get involved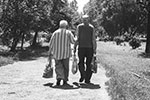 "As human beings we value the experience that comes with age. We are reminded over and over again with statements like 'older and wiser' and 'respect your elders,' promoting age as something to be cherished and respected." – Jenna Morasca
As we observe "Older Americans Month" this May, we encourage everyone to honor the seniors/elderly in our lives. Older Americans are the closest thing we have to time travel—they are the eyes and ears of our country's past and can help us re-live days long gone. We can also continue to honor them by helping them preserve precious memories and photos.  Use social media to hashtag #OlderAmericansMonth, give seniors a hug, and your time. Listen to their life stories and celebrate them.  Visit a senior center today.
Read their stories and the power of family photos to nostalgically revisit a family's history.
A ScanMyPhotos e-gift certificate will enable the seniors in your life to digitize their analog memories to pass down to future generations. Learn more.
Directory of Resources