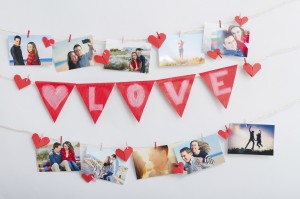 February 14th is just a few days away. If you're running out of Valentine's Day gift options, or if you want to add some extra points to the gift you did buy, we have a few ideas for you to use. And, of course, our gift ideas center around using photos of your loved ones!
So, round up some good pics of you, your significant other, and your friends and family, and use them to create one of the following touching gifts.
1: Design a Photo Book Dedicated to Loving Memories
Creating a book of memories is a great way to make your loved ones feel special. Check out our recent article on some photo book options and services to try out.
2: Make Your Own Digital Valentine's Day Cards
Canva is a super fun and easy-to-use graphic design service that's now featuring Valentine's Day Card templates for you to use. You can either select from their pre-made templates or create your own. Canva also has a nifty feature that allows users to easily upload scanned photos and place them into frames and icons. Oh, and did we mention it's free?
3: Create a Collage or Valentine's Scrapbook
While digital Valentine's Day cards are free and fun, it's also wonderful to receive a handmade gift—especially if it's filled with photos of good times. Channel your inner craftiness, arm yourself with stickers, markers, and maybe even some glitter glue, and put together a touching tribute to your love. If you have kids, they'll have a blast helping out!
4: Make Your Own Love Story Playing Cards
Want to show your loved one they're the queen or king of your heart? You can have an entire playing card deck made out of a photo of the two of you together! Every time they play a card game with the deck, they'll be reminded of the love.
5: String Up a Photo Garland
Is there anything Martha Stewart can't do? Nope, not one single thing!
We thought using her Photo Garland idea and giving it a Valentine's Day twist would be a great way to show your loved ones you care. If you have some baked goods or treats planned, displaying the garland over them will make for a festive Valentine's Day scene.
Whichever gift you do decide to give, everyone here at ScanMyPhotos would like to wish you and your loved ones a Happy Valentine's Day!