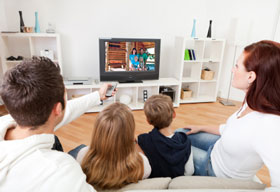 My father, like many people, is a transplant. He was born in the small mining village of Bellaire, Ohio and he hadn't been back to visit in well over 20 years. This past summer he decided to take a few weeks to go back, visit and catch them up on what he has been up to since the last time he visited in the 80s. Much of our Ohio family is older and not computer literate so they haven't been kept up to date with family photos, news and stories via email and Facebook. So much family history has happened to our clan since the last time he visited, he decided he wanted to take a bunch of photos to show everyone my sister and I growing up and all that went along with it.

There was one big problem: how do you choose which photos to take? How do you summarize 20 years of family history into a handful of photos? Even if you can narrow it down, what is the best way to transport all of those photos? Luckily, he has a son that works for a company that scans photos and had the perfect solution.

Prior to his trip, I told him to buy an AppleTV to go along with his Macbook Air. He then gave ScanMyPhotos about 1,500 photos to scan and we provided him with the scanned images which he promptly put into iPhoto. Now that they were all digitized and on his computer, he set out to organize the images into various years and themes and mixed in recent digital photos of his new grandkids and other recent events that happened during the digital photo age. Now, instead of having to lug 15-20 pounds of photos and take up valuable luggage space, he packed his laptop, which he planned on taking anyhow, and his new AppleTV.

Once he arrived in his hometown, he plugged the AppleTV to his uncle's TV, turned on his laptop and let AppleTV do the work of showing off the photos. He let it run for hours and hours over many days and as family came over for BBQs and dinners, all the relatives were free to watch photos and ask questions at their leisure instead of everyone sitting around the living room passing photos from one person to the next.

My dad noticed a surprising thing happen. Even though the weather was great by Ohio in July standards, he found everyone standing around the living room more often than not watching the photos go by. Suddenly, our family that was in the dark about all the family vacations, weddings, graduations, grandkids and other life events, were caught up in a matter of days and all my dad had to do was bring along an extra device that weighed less than one pound and took up 16 cubic inches in his suitcase.

If you plan on seeking out long lost family or plan on a similar trip, scanning your photos, using an AppleTV or similar device is a great solution to having to lug a suitcase full of photos around. Even better, you can put all the scanned photos on a thumb drive and leave a set of the digital images behind so they have their own piece of the family photo history.