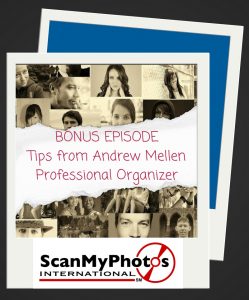 Welcome to this week's bonus episode of Tales From the Pictures We Saved! 
We've spent the past 26 years helping our customers preserve tens of millions of happy memories, milestones, achievements and events—all of which have incredible stories behind each and every photo.
And now we're eager to share these stories with you.
In this week's very special episode we got to a golden opportunity to chat with professional organizer Andrew Mellen.
Andrew's prowess in the organization field has landed him on NPR, Real Simple, Oprah, Martha Stewart and many more high-profile media channels. He's a larger-than-life organizational expert, speaker and best-selling author of the book Unstuff Your Life—and he's on a mission to help everyone he meets get back in touch with their core values.  Follow Andrew on Twitter
Take a listen to the must-hear tips Andrew provided during our interview.