Save 50% today at ScanMyPhotos' for our special Valentine's Day sale, including free S/H* and no minimum*

A warm welcome to our game-changing, crazy sweet Valentine's Day sale. Better than flowers or chocolates, your digitized photos as the most emotional gift for your sweetheart will last a lifetime and more.
We designed this Valentine's Day 50% off photo scanning deal with you in mind to share and preserve all your decades-past family photos. Plus, free 3-way S/H on the pre-paid photo scanning boxes.
Select our most popular prepaid fill-the-box photo scanning to digitize about 1,800 standard pictures for $72.50, including free 3-way S/H. SAVE 50% NO MINIMUM TODAY. This is a flash sale that will soon disappear.  Please share the love and let everyone know. This is a flash 24-hour sale, some restrictions may apply and cannot be applied to a prior order, discount. Use "50OffScan" promo code at checkout.
To instantly save 50%* Must enter at checkout this promo code: "50OffScan" to instantly validate.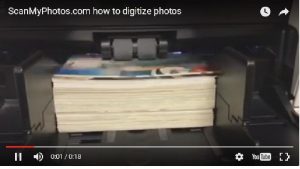 Watch this. Have decades-past family photos digitized this fast?  Here is a behind-the-scenes view how your snapshots are professionally and magically digitized. We are good at this, as ScanMyPhotos has digitized 500 million photos since 1990. For details, please visit ScanMyPhotos.com
BONUS: Sign up here for instant discounts and news updates from ScanMyPhotos.com
Also, choose from these popular add-on services to enhance your photo scanning experience: 
The New York Times, The Wall Street Journal, AARP, Real Simple, USA Today, KRON4 TV News, KTLA5 TV News and 100's more are raving about our most popular service. TechCrunch said, "ScanMyPhotos is one of the coolest services in the world."
Read these sampling of our most popular customer stories for tips on why preserving your photos is so important.
Behind-the-scenes TV tech news profile on ScanMyPhotos
Excerpt: Most of us have gone completely digital with our pictures, storing them now on our computer or in the cloud. So, what do you do with all those old printed photos piled in boxes or living in analog photo albums? KRON4's Tech Reporter Gabe Slate shows you online services that let you quickly get those old pics turned digital in an easy and affordable way.